Olympic Betting Odds Explained
Jump To: Medal Count | TV Schedule
Every two years, millions of fans from all over the world watch their favorite international athletes compete for gold in the Olympics. More and more sports bettors are realizing that betting on the Olympics is no different than putting money on any other sporting event, which is why there has been an influx of Olympic betting odds at online sportsbooks. As betting on the Olympic Games is still gaining its footing (Nevada just allowed this for the first time in 2015, after all), many fans are unsure of exactly how Olympic betting odds actually work. There are different types of Olympic betting odds formats, plus a few different ways that you actually wager on the Summer and Winter Games.
Learning how to read Olympic betting odds is the first step you should take before you start wagering. Having an idea of what types of Olympic bets you can place will also make for a more fun wagering experience. We give you the details you need on both and provide you with other helpful Olympic betting information, as well. You will have no problems choosing and joining any of the top sports betting sites once we're done explaining the Olympic betting odds available to you.
Ways To Bet On The Olympic Games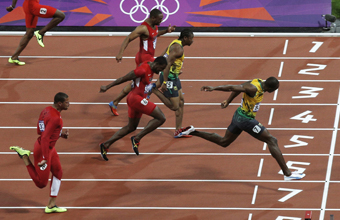 There are numerous ways to bet on the Olympics at the leading sports betting sites, all of which are fun and entertaining. Exact numbers vary, but between the Winter and Summer Olympics, there upwards of 40 different sports and over 400 events. Bookmakers will post a wide range of odds on nearly every event, but the types of Olympic bets that can be placed will typically fall into a handful of categories. Here are some of the more common ways to bet on the Olympic Games.
Outright Winner
When betting on the outright winner of an event, you are placing a wager on the athlete or nation that you think will win gold. For example, you can bet on the outright winner of the men's biathlon event or the Olympian to win the women's 100M. You can bet on the outright winner of any Olympic event, and this is the most straightforward way to wager on Olympic betting odds.
Most Gold Medals
Olympic betting odds for the most gold medals are often the first line you'll see on every Olympic betting odds board. This is a wager on the nation that will win the greatest number of gold medals collectively by the end of that year's Olympics. There may also be head-to-head matchups that pit rival countries against each other. A classic example is wagering on whether Canada or the USA will win more golds.
Total Number Of Gold Medals
Betting on the total number of gold medals in the Olympics is slightly different than other types of medal specials. When betting totals, the bookmaker will assign a total number of gold medals for a given country, and you will bet on the actual total to be over or under this amount. Take a look at the example below:
Total Number of Norway Gold Medals
Over 12.5 Gold Medals -275
Unders 12.5 Gold Medals +200
If you believe that Norway will win 13 or more gold medals, bet the over at -275 odds. If you think that Norway will take home fewer than 13 gold medals, bet the under. Bookmakers will assign half points (0.5) to wagers in order to avoid a "push", which is where the points (or in this case medals) land exactly on the total. Pushes usually result in refunds on all wagers for a given bet, so sportsbooks try to avoid this when possible.
Matchups
You will typically find Olympic betting odds for matchups in sports where there are several athletes competing at once. For example, you won't commonly find snowboarding matchup odds, but you will find plenty of matchups for the biathlon. There can be time matchups where you wager on which athlete will have the faster time, or even matchups on which nation will perform better in a certain event. There are all sorts of head-to-head bets that can be placed on certain Olympic sports.
Winning Margin
In events where everything can come down to a split second, you will be able to find Olympic betting odds on the winning margin. In the 20km biathlon event, for example, you might be able to wager on the winning margin to be between 0.1 seconds and 14.9 seconds. In men's slalom alpine skiing, you might bet on the winning margin to be between 0.20 seconds and 0.39 seconds. It all depends on your sportsbook. Every second counts when betting on the winning margin in the Olympics.
How To Read Olympic Betting Odds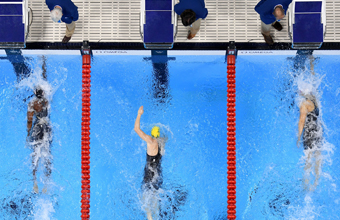 As you are comparing lines at sportsbooks, you will notice that Olympic betting odds may look different depending on the site you choose. This is because betting odds come in three different formats – American, fractional, and decimal. Luckily, all three odds format types are simple to understand in their own right. Here is a breakdown of how to read Olympic betting odds in the American, fractional, and decimal formats.
American Betting Odds
As the name suggests, you will see Olympic betting odds in this format at American-facing sports betting sites. Ahead of the odds, there will be a (-) sign for the favorite or a (+) for the underdog. When betting on the favorite (-), the odds represent how much you must wager to win $100. When betting underdogs, the odds tell how much you will win on a $100 bet. For example:
Ice Hockey Women 2018
If you were to bet on the favored USA team to win the Ice Hockey women's event, you would have to wager $130 in order to win $100. If you bet on the underdogs at +110 odds, you only have to wager $100 to potentially win $110. These are not betting minimums but simply show the ratio of risk-to-reward for whatever wager amount you select. Most offshore Olympic betting sites will take bets of as little as $0.50 or $1.00.
Fractional Betting Odds
Fractional betting odds are the standard in Europe and may also be called UK odds. These betting odds represent a win/risk ratio. The numerator (top number) represents the win amount while the denominator (bottom number) represents the risk amount. For example:
Cross Country Skiing - 15km Interval Match-ups
Alexander Bolshunov 13/8 vs Simen Hegstad Krueger 4/9
To bet on Bolshunov, you would win $13 for every $8 wagered. A $100 bet would win $162.50, for a total return of $262.50. Betting on Krueger would yield $4 for every $9 bet, which would be a win of $44.44 on a $100 wager. The total return would be $144.44. A quick rule of thumb is that if the fraction is less than one, you will have to risk more than your potential win, while a fraction greater than one will have a greater win than the amount you have to put down.
Decimal Betting Odds
Olympic betting odds in the decimal format are usually used in Australia, Canada, and certain parts of Europe. Decimal odds are the least complicated type of betting odds to figure out because you simply multiply your wager amount by the decimal odds for your total return. It includes your original stake, so no additional calculations are necessary.
Most Gold Medals
Norway 1.80
Germany 5.50
USA 7.50
If you were to bet $100 on Norway to win the most gold medals, your total return would be $180 (1.80 x $100). A winning bet on Germany would return $550 (5.50 x $100) and a wager on the USA would return a total of $750 (7.50 x $100).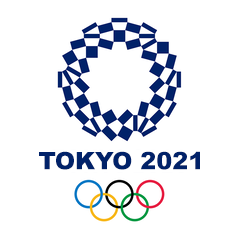 Best Sites For Olympic Betting Odds
When looking for the best sites for Olympic betting odds, having a wide selection of sports is paramount. You want to be able to find the odds on your favorite Olympic disciplines and the athletes that will be participating. The top sites for Olympic betting will also have bonuses that allow you to boost your bankroll for more wagering opportunities. Banking is also another consideration, with fast deposits and reliable payouts. The online sportsbook with the best Olympic betting odds for US bettors is Bovada, though competing books like SportsBetting, BetOnline, MyBookie, BetDSI, and BookMaker are also worth joining. This is especially true when you want to shop lines to find the best possible Olympic betting odds for any given event.
PROS:
Accepts US Players
Tons of Games
Deposit/Withdraw with Bitcoin
Massive Bonus!
CONS:
No DE, MD, NJ, NY, NV
Higher Fees
Bovada.lv
Bovada is the most trusted US-friendly Olympic betting site out there. Whether it is the Winter Games or the Summer Olympics, you can count on this award-winning sportsbook to provide the latest Olympic betting odds. During the Summer Games, you can bet on sports like basketball, swimming, soccer, and golf, among a host of others. The Winter Games will bring betting odds on the biathlon, curling, ice hockey, figure skating, and other popular events. You can bet on the outright winner of any event, or on the nation to win the most gold, as well as on a number of other futures, specials, and matchups. The options are virtually endless, with tens of thousands of bets available for each Olympic Games.
Bovada is known for having reliable banking options, which is why you can now bet on the Olympics with Bitcoin. Bovada accepts bitcoin deposits with a minimum of $10 and a maximum of $5,000 per transfer, all with no added fees. When you make your first Bitcoin deposit, you can also redeem the site's exclusive Bitcoin Bonus which will match your deposit by 50% for up to $500. Just use bonus code "BVSBITCOIN50" to redeem your sportsbook bonus and get a huge boost for all your Olympic betting wagers.
Best Olympic Betting Sites