Olympic Luge Betting Odds For Beijing 2022
Luge is one of the more intriguing events in the Olympics as athletes slide down the track at high speeds with incredible skill. Since making the Olympic debut in 1968, Luge has been brought fans fr om all backgrounds to watch the unique event and root for their respective countries. The only way to make watching Luge more entertaining is by placing bets on the events and with the right wagers, Luge can provide great payouts whether you are an experienced fan of the game or not. With Olympic betting sites offering odds on the luge, be sure to learn some of the rules and history first.
Can American Players Legally Wager On The Beijing 2022 Luge Events?
Fans have been placing wagers on the Olympics since the inception of the event. With regulated sports betting legalized in 32 states and Washington DC, finding a legal bookie to take your bet in the US doesn't require a drive to Vegas anymore. For those who prefer to wager from the couch, online sportsbooks based offshore provide a rewarding and safe alternative for Olympic betting odds. Of these potential sports betting sites, Bovada and BetOnline are the best places to wager on the Beijing 2022 luge events.
Olympic Luge Betting Odds For Beijing 2022
Our highest-rated online sportsbooks are listing current 2022 Winter Olympics luge betting odds for Beijing according to each discipline. These betting lines include individual event futures odds, total medals won, over/under bets on the time of individual run and so on. Betting odds on Olympics luge competitions for men and women are currently available at the winter sports and Olympic betting sections of Bovada, or BetOnline wh ere you can find all the details as soon as they're updated. The odds on Olympics luge races are among the fastest to change following each event, so don't miss out on this opportunity to cash out a huge winning ticket as soon as new betting lines pop up at our most recommended sportsbook sites.
Beijing 2022 - Men's Doubles
Toni Eggert & Sascha Benecken (GER)-150
Tobias Wendl & Tobis Arlt (GER)+450
Thomas Steu & Lorenz Koller (AUT)+500
Andris Sics & Juris Sics (LAT)+650
Emanuel Rieder & Simon Kainzwaldner (ITA)+1200
Martins Bots & Roberts Plume (LAT)+1600
Yannick Mueller & Armin Frauscher (AUT)+2000
Andrey Bogdanov & Iurii Prokhorov (ROC)+4000
Beijing 2022 - Team Relay
Germany (GER)-150
Austria (AUT)+250
Latvia (LAT)+450
Russia (ROC)+1000
Italy (ITA)+1600
USA (USA)+5000
Canada (CAN)+20000
Poland (POL)+50000
Olympic Luge Disciplines
Luge is divided into four disciplines – men's singles and women's singles events, as well as doubles and team relay events which allow mixed male and female competitors. These sub-events are each subject to very strict rules that govern seemingly every aspect of the sport fr om the weight of the riders to the physical measurements of the sleds, including the temperature of the individual blades before they hit the ice!
What Are The Rules For Olympic Luge?
Physical measurements of the sled and players are taken. The temperature of the sled's steel blades may not be more than five degrees Celsius above that of the previously established controlled temperature. Athletes racing on artificial tracks must be weighed before the race to determine if they will be allowed to carry any extra weight. Men may use additional weight amounting to 75% of the difference between body weight and base weight of 198 pounds. Women may add up to 50% of the difference between body weight and base weight of 165 pounds. Doubles athletes can use an additional weight of up to 50% of the difference between body weight and base weight of 198 pounds. Additional weights may not be used in doubles if the combined weight of the front and back person is less than 396.8 pounds.
Between runs, athletes receive random weight checks and before each artificial track run, the sled with the athletes is weighed at the start ramp. Once an athlete is on their sled they are audibly notified that the track is clear. From that point, they have 30 seconds to start their run. A run becomes official when an athlete and their sled, in contact with one another, both cross the finish line. Sled checks are also performed after the final run of the competition. The three medalists then do what is called "sled control" wh ere the entire sled is taken apart and officials check illegal methods or materials in the sleigh. Examiners perform measurements and check the suspension system to ensure there is no foul play.
Americans To Medal in Olympic Luge
| Discipline: | Name: | Medal: | Olympic Games: |
| --- | --- | --- | --- |
| Men's Singles | Chris Mazdzer | Silver | 2018 Pyeongchang |
| Women's Singles | Erin Hamlin | Bronze | 2014 Sochi |
| Men's Doubles | Mark Grimmette & Brian Martin | Silver | 2002 Salt Lake City |
| Men's Doubles | Chris Thorpe & Clay Ives | Bronze | 2002 Salt Lake City |
| Men's Doubles | Chris Thorpe & Gordon Sheer | Silver | 1998 Nagano |
| Men's Doubles | Mark Grimmette & Brian Martin | Bronze | 998 Nagano |
Beijing 2022 Winter Olympics - Luge Event Quick Facts
There is no specific rule that says doubles teams must be comprised of members of the same sex. However, men traditionally slide with men and women slide with women.
Luge made its Olympic debut at the 1964 Innsbruck Games and has been dominated by a handful of countries.
The U.S didn't medal in the sport until the 1998 Nagano Games, claiming the silver and bronze in the doubles event. They repeated the feat in doubles at the 2002 games in Salt Lake City. Brian Martin and The U.S. failed to medal in the 2006 or 2010 Games, but Erin Hamlin managed to bring home the bronze in the women's singles in 2014.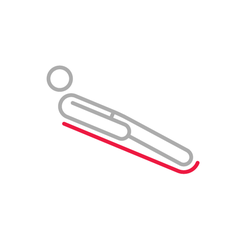 Latest Beijing Olympic Luge News
Sorry, we couldn't find any posts. Please try a different search.
Luge Events Schedule - 2022 Beijing Winter Olympics
Sat - Feb 5
Men's Singles Run 1
Men's Singles Run 2
Sun - Feb 6
Men's Singles Run 3
Men's Singles Run 4
Mon - Feb 7
Women's Singles Run 1
Women's Singles Run 2
Tue - Feb 8
Women's Singles Run 3
Women's Singles Run 4
Wed - Feb 9
Doubles Run 1
Doubles Run 2