Olympic Freestyle Skiing Betting Odds For Beijing 2022
The Olympic freestyle skiing betting odds for Beijing 2022 can be found right here. This site offers any and all the information one would need to make wagers on Freestyle Skiing betting odds at the Beijing Olympics including a run-down of the sport and the history associated with it. Looking back at previous winners, Canada has won the last three gold medals in the men's moguls event while the United States has won gold in the last two men's halfpipe.
Beijing 2022 Freestyle Skiing Betting Odds
Men's Mogul
Mikael Kingsbury (CAN) -135
Ikuma Horishima (JPN) +200
Walter Wallberg (SWE) +1600
Kosuke Sugimoto (JPN) +2000
Benjamin Cavet (FRA) +2200
Ludvig Fjallstrom (SWE) +2800
Men's Halfpipe
Nico Porteous (NZL) +165
Aaron Blunck (USA) +330
Alex Ferreira (USA) +450
Brendan Mackay (CAN) +700
David Wise (USA) +700
Birk Irving (USA) +1000
Can American Players Legally Wager On The 2022 Beijing Freestyle Skiing Events?
Yes, American players can absolutely wager on the 2022 Beijing freestyle skiing events at the winter Olympics. Even though there aren't any odds set quite yet, it would still be beneficial for future players to go ahead and pick the outlet they want to use to make their wagers. The sites we have provided post Olympic betting odds and are all great options and are all safe to use as well.
What Events Makeup Freestyle Skiing At the 2022 Beijing Olympic Games?
There are 10 Freestyle Skiing events associated with the 2022 Beijing Olympic Games: Men's and Women's Moguls, Aerials, Ski Halfpipe, Ski Cross, and Ski Slopestyle. Each of these sports requires substantially different skillsets, and there are specific rules that govern each. That said, Freestyle skiing in general sees all its athletes performing aerial acrobatics while simultaneously gliding down the slope. Freestyle Skiing events are scored based on both speed and judged technique performances.
Freestyle Skiing Moguls
Moguls are naturally formed bumps caused by skiers piling snow while they ski. Moguls racing uses this concept in its course construction, but usually through artificial production, and the course ends up being cross-hatched with small mounds of snow (taking on the appearance of a puffy quilt). The Freestyle Skiing Moguls discipline comprises a 250m (273 yards) race that has two jump sections. There are two qualifying rounds that decide 20 finalists. After more qualifying, the field is narrowed down to 12, and then to 6. A group of 7 judges decides the scores for Mogul races, and their scoring is composed of 50% turning technique, 20% air maneuvers, and 20% speed.
Freestyle Skiing Aerials
Aerials are an event in which Freestyle skiers propel themselves off jumps to perform tricks. Each participant gets two jumps per round, and there are 3 rounds that narrow the field from 12 competitors to 4.In the Freestyle Skiing Aerials discipline, there are 5 judges who use a 10-point scale based on air performance, form, and landing.
Freestyle Ski Halfpipe
The Freestyle Ski Halfpipe is a skill-based competition in which the athletes glide down a halfpipe and perform various established tricks. Five judges grade the performances based on jump height, peak turn, overall technique, and degree of difficulty. Each competitor gets two runs to post their best score (on a 100 point scale), and there are two rounds: the qualifier and the final.
Freestyle Ski Cross
Freestyle Ski Cross groups together four individual athletes who then compete on a designed course with difficult obstacles like banks, rollers, spines, and jumps. It's a straight up race, so whoever finishes first wins. 36 athletes enter the contest to begin, and after various seeding races and official heats, the final race is held between the best four highest scoring remaining skiers.
Freestyle Ski Slopestyle
Freestyle Ski Slopestyle is a race comprised of obstacles that are chosen by the athletes themselves, much in the manner that ice skaters pick their own routines. Five judges grade the performance on a scale up to 100 points. They look at the height, turn, technique, and difficulty. 24 men and 12 women advance to the finals, and each skier performs twice, with their highest score of the pair of runs being their final marks. The best overall score wins the Olympic Freestyle Ski Slopestyle Gold medal.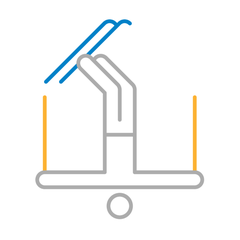 What Are The Rules For Olympic Freestyle Skiing?
The Freestyle Skiing events will all take place at the Beijing Winter Olympics, which will hold all 10 competitions (5 men's races, and 5 women's races). Each participant must wear all approved safety and performance equipment, but there is no specified length for skis. Though Moguls and Aerials racers typically employ different ski size preferences. As far as the dimensions for the courses in Olympic Freestyle Skiing, they vary depending on the event.
Ski Halfpipe - has an average tilt of 17 degrees, a recommended slope of 170m, a halfpipe width of 20m, and a height of 6.7m.
Ski Cross - the course includes a difference in elevation of 130m to 250m, a length of 1050m, an average tilt of 12 degrees, a slope width of 40m, and a track width of 6m to 16m. Slopestyle - sees a difference in elevation of 150m, an average tilt of 12 degrees (minimum), a width of 30m (minimum), and at least three jumps.
Moguls - have an average tilt of 28 degrees, a difference in elevation of 110m, a length of 250m, and a minimum width of 18m.
2022 Beijing Winter Olympics - Freestyle Skiing Event Quick Facts
The 1960's is when freestyle skiing started building popularity.
Freestyle skiing started out as just a demonstration sport at the 1988 Calgary Games.
Introduced to the Olympics in 1992 Games.
Freestyle skiing has been nicknamed "hot-dogging" due to the skiers who pioneered the sport being called "hot dogs".
Latest Beijing Olympic Freestyle Skiing News
Sorry, we couldn't find any posts. Please try a different search.
Freestyle Skiing Events Schedule - 2022 Beijing Winter Olympics
Thu - Feb 3
Women's Moguls Qualification 1
Men's Moguls Qualification 1
Sat - Feb 5
Men's Moguls Qualification 2
Men's Moguls Final 1
Men's Moguls Final 2
Men's Moguls Final 3
Sun - Feb 6
Women's Moguls Qualification 2
Women's Moguls Final 1
Women's Moguls Final 2
Women's Moguls Final 3
Mon - Feb 7
Women's Freeski BA Qualification Run 1
Women's Freeski BA Qualification Run 2
Women's Freeski BA Qualification Run 3
Men's Freeski BA Qualification Run 1
Men's Freeski BA Qualification Run 2
Men's Freeski BA Qualification Run 3
Tue - Feb 8
Women's Freeski BA Final Run 1
Women's Freeski BA Final Run 2
Women's Freeski BA Final Run 3
Wed - Feb 9
Men's Freeski BA Final Run 1
Men's Freeski BA Final Run 2
Men's Freeski BA Final Run 3
Thu - Feb 10
Mixed Team Aerials Final 1
Mixed Team Aerials Final 2
Sun - Feb 13
Women's Freeski SS Qual. Run 1
Women's Freeski SS Qual. Run 2
Women's Aerials Qualification 1
Women's Aerials Qualification 2
Mon - Feb 14
Women's Freeski Slopestyle Final Run 1
Women's Freeski Slopestyle Final Run 2
Women's Freeski Slopestyle Final Run 3
Men's Freeski SS Qualification Run 1
Men's Freeski SS Qualification Run 2
Women's Aerials Final 1
Women's Aerials Final 2
Tue - Feb 15
Men's Freeski Slopestyle Final Run 1
Men's Freeski Slopestyle Final Run 2
Men's Freeski Slopestyle Final Run 3
Men's Aerials Qualification 1
Men's Aerials Qualification 2
Wed - Feb 16
Men's Aerials Final 1
Men's Aerials Final 2
Thu - Feb 17
Women's Freeski Halfpipe Qual. Run 1
Women's Freeski Halfpipe Qual. Run 2
Women's Ski Cross Seeding
Men's Freeski Halfpipe Qual. Run 1
Men's Freeski Halfpipe Qual. Run 2
Women's Ski Cross 1/8 Finals
Women's Ski Cross Quarterfinals
Women's Ski Cross Semifinals
Women's Ski Cross Small Final
After Small Final
Women's Ski Cross Big Final
Fri - Feb 18
Women's Freeski Halfpipe Final Run 1
Women's Freeski Halfpipe Final Run 2
Women's Freeski Halfpipe Final Run 3
Men's Ski Cross Seeding
Men's Ski Cross 1/8 Finals
Men's Ski Cross Quarterfinals
Men's Ski Cross Semifinals
Men's Ski Cross Small Final
After Small Final
Men's Ski Cross Big Final
Sat - Feb 19
Men's Freeski Halfpipe Final Run 1
Men's Freeski Halfpipe Final Run 2
Men's Freeski Halfpipe Final Run 3
Thu - Feb 17
Women's Freeski Halfpipe Qual. Run 1
Women's Freeski Halfpipe Qual. Run 2
Women's Ski Cross Seeding
Men's Freeski Halfpipe Qual. Run 1
Men's Freeski Halfpipe Qual. Run 2
Women's Ski Cross 1/8 Finals
Women's Ski Cross Quarterfinals
Women's Ski Cross Semifinals
Women's Ski Cross Small Final
After Small Final
Women's Ski Cross Big Final