Olympic Curling Betting Odds For Beijing 2022
The curling event at the Winter Olympics is sure to bring out the masses as it has since 1998 when Curling made its Olympic debut and has been gaining popularity rapidly over the past few years. The strategy involved in the stone and broom sport keeps athletes and enthusiasts watching for hours, but super fans are upping the ante by placing wagers on Olympic curling betting odds for Beijing 2022. Putting money on curling is easier than ever before, and bettors everywhere are finding themselves winning big. The Beijing 2022 event schedule takes place from February 2 - February 20 and the (* Olympic betting odds https://www.olympicbettingodds.com/ *) for curling are some of the best around. Use this page as a resource for everything related to the 2022 Olympic curling event including the history of curling and past Olympic winners.
Olympic Curling Betting Odds For Beijing 2022
Curling betting odds for the 2022 Beijing Winter Olympics are available at all online sportsbooks. You can bet on which country will take home the gold in Beijing and many prop bets surrounding Olympic curling as well. Canada has won the event many times over the last few Olympics but Sweden - who hasn't had as much recent success - is also a top contender.What Events Makeup Curling at the 2018 PyeongChang Olympic Games?
What Events Makeup Curling at the 2022 Beijing Olympic Games?
While the curling consisted of only two events in the past, we will see a third at Beijing 2022 after its debut in 2018. With curling overall making its debut at the Nagano 1998 Olympic Winter Games, the sport is still growing with rules changing.
Mixed Doubles Curling
After its inaugural launch at Beijing 2022, the mixed doubled curling event sets teams of one male and one female player. Before a game begins, teams will be given 22 minutes to strategize. Each individual game is scheduled for 8 ends, with teams delivering 5 stones per end. Two stones are to be placed at the playing end of the curling sheet before the start of an end.
What Are The Rules For Olympic Curling?
The men's and women's teams, which each consist of four players and an alternate, play the game on a large sheet that measures about 150 feet long by 15 feet wide. On the ice pebbled sheet, you will find targets that the teams will aim to throw their stone into. Typically, stones are thrown in the order of lead, second, third (also called vice skip), and skip. Brushes or brooms can be used to guide the stone to its target. One game has 10 rounds where each player ends up throwing the stone eight times, and this typically lasts for 2 hours and 40 minutes.
In the new mixed doubles event, there will be two-player teams with 8 total ends. In both instances, the players must take turns moving the stones and aim to get theirs closest to the center of their house. Each house consists of four concentric circles. Points are delivered to the team with their stone closest to the center of the target at the conclusion of an end.
Can American Players Legally Wager on the 2022 Beijing Curling Event?
USA residents can wager on Olympic curling odds without having to worry about travel or legalities. With states regulating gambling in recent years, there are over 30 districts to bet on the Olympics. However, betting online is always easier and you'll want to use a site that is licensed, has a trustworthy name in the industry, and provides extra features such as mobile betting. Top sportsbooks such as Bovada and BetOnline take wagers from bettors all over the country.
Beijing 2022 Winter Olympics - Cross Country Skiing Event Quick Fact
The sport was originally founded by the Scots in 1541 as recorded by Paisley Abbey monastery in Renfrewshire.
Curling had its men's and women's competitive debut in the 1998 Nagano Games.
The Simpsons released an episode in 2010 all about curling titled 'Boy Meets Curl'.
Though the first stones were invented in around 1511 in the Scottish regions of Perth and Sterling, it was not until the 1600s that handles were added.
The sport is nicknamed "The Roaring Game" due to the loud sounds the stones make as they travel across the sheet ice pebbles.
The size of an Olympic curling stone is 19.1kg or roughly 42 pounds. You will find that they can be regulated up to 44 pounds, or 19.96kg.
There are two different types of brooms, a Canadian broom that looks more traditional and a brush or "push broom".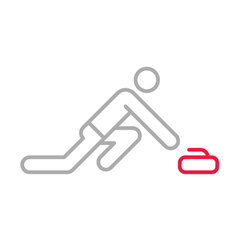 Americans To Medal in Olympic Curling
American Men With Curling Medals
| Name: | Medal: | Olympic Games: |
| --- | --- | --- |
| John Shuster, Tyler George, Matt Hamilton, John Landsteiner & Joe Polo | Gold | 2018 Pyeongchang |
| Pete Fenson, Shawn Rojeski, Joseph Polo, John Shuster & Scott Baird | Bronze | 2006 Turin |
Latest Beijing Olympic Curling News
Sorry, we couldn't find any posts. Please try a different search.
Curling Events Schedule - 2022 Beijing Winter Olympics
Wed - Feb 2
Mixed Doubles Round Robin Session 1
Thu - Feb 3
Mixed Doubles Round Robin Session 2
Mixed Doubles Round Robin Session 3
Mixed Doubles Round Robin Session 4
Fri - Feb 4
Mixed Doubles Round Robin Session 5
Mixed Doubles Round Robin Session 6
Sat - Feb 5
Mixed Doubles Round Robin Session 7
Mixed Doubles Round Robin Session 8
Mixed Doubles Round Robin Session 9
Sun - Feb 6
Mixed Doubles Round Robin Session 10
Mixed Doubles Round Robin Session 11
Mixed Doubles Round Robin Session 12
Mon - Feb 7
Mixed Doubles Round Robin Session 13
Mixed Doubles Semi-final
Tue - Feb 8
Mixed Doubles Bronze Medal Game
Mixed Doubles Gold Medal Game
Wed - Feb 9
Mixed Doubles Round Robin Session 10
Men's Round Robin Session 1
Thu - Feb 10
Women's Round Robin Session 1
Men's Round Robin Session 2
Women's Round Robin Session 2
Fri - Feb 11
Men's Round Robin Session 3
Women's Round Robin Session 3
Men's Round Robin Session 4
Sat - Feb 12
Women's Round Robin Session 4
Men's Round Robin Session 5
Women's Round Robin Session 5
Sun - Feb 13
Men's Round Robin Session 6
Women's Round Robin Session 6
Men's Round Robin Session 7
Mon - Feb 14
Women's Round Robin Session 7
Men's Round Robin Session 8
Women's Round Robin Session 8
Tue - Feb 15
Men's Round Robin Session 9
Women's Round Robin Session 9
Men's Round Robin Session 10
Wed - Feb 16
Women's Round Robin Session 10
Men's Round Robin Session 11
Women's Round Robin Session 11
Thu - Feb 17
Men's Round Robin Session 12
Women's Round Robin Session 12
Men's Semi-final
Fri - Feb 18
Men's Bronze Medal Game
Women's Semi-final
Sat - Feb 19
Men's Gold Medal Game
Women's Bronze Medal Game