Olympic Cross Country Skiing Betting Odds For Beijing 2022
Olympic Cross Country skiing is one of the best Winter Olympic sports to bet on and has been one of the more popular Olympic sports since its debut in 1924. With many individual and team disciplines that make up this event, Cross Country Skiing provides myriad opportunities for avid bettors from a quick wager on a 15Km to the 40Km team relay and everything in between. This page is here to help you understand the disciplines that make up the sport, as well as provide the most up-to-date and current Olympic Cross Country Skiing betting odds for Beijing 2022.
Cross Country Skiing Odds At Beijing 2022 Winter Olympics
There are several cross-country skiing events for both men and women and the Winter Olympics. They include different relay's, freestyles, and team events. In the team sprints for women, Norway has won two of the four gold medals since the introduction of the sport. For the men's individual sprint, the men Norway has won two of the last five gold medals.
Women's 4x5km Relay
Norway (W) +110
Sweden (W) +138
Russian Olympic Committee (W) +400
Finland (W) +2200
USA (W) +2500
Germany (W) +6600
Women's Individual Sprint Freestyle
Jonna Sundling (SWE) +150
Maja Dahlqvist (SWE) +150
Anamarija Lampic (SLO) +800
Mathilde Myhrvold (NOR) +1200
Jessie Diggins (USA) +1600
Nadine Faehndrich (SUI) +1600
Women's Team Sprint
Sweden (W) -225
Russian Olympic Committee (W) +450
Norway (W) +550
Slovenia (W) +1400
USA (W) +1600
Finland (W) +2000
Men's 4x10km Relay
Norway (NOR) -275
Russian Olympic Committee (ROC) +225
France (FRA) +2000
Finland (FIN) +3300
Sweden (SWE) +3300
Italy (ITA) +5000
Men's Individual Spring Freestyle
Johannes Hoesflot Klaebo (NOR) -350
Sergey Ustigov (ROC) +900
Haavard Solaas Taugboel (NOR) +1200
Richard Jouve (FRA) +1400
Federico Pellegrino (ITA) +1600
Lucas Chanavat (FRA) +2200
Men's Team Sprint
Norway (NOR) -350
Russian Olympic Committee (ROC) +275
France (FRA) +1600
Finland (FIN) +2500
Italy (ITA) +2500
Sweden (SWE) +3300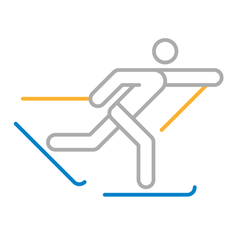 What Events Make Up Cross Country Skiing At the Beijing 2022 Olympic Games?
Cross Country Skiing is made up of 6 disciplines, and both men and women compete in each. The events can either be run in the classic style, or the skate skiing technique, also known as the freestyle technique. Cross Country tracks are broken into three equal segments of uphill courses, even courses, and downhill courses.
Of the six disciplines within Olympic Cross Country Skiing, there are four individual events. The first is actually called the Individual. In this part of the competition, the women representing their countries will run a 10Km race, using the freestyle technique. Men run this event for 15Km and do it in either the classic or freestyle technique. Next is the Sprint. This is a short-distance race where the women run 0.8 to 1.6km, and men run 1 to 1.8km. The Sprint can be run in either the classical or freestyle technique. Both of these races dictate that athletes have a 30-second interval between start times.
The next two individual events are the Skiathlon and the Mass Start. In the Skiathlon event, all competitors start at the same time. Women run a 15Km race. Men run a 30Km race. The first half of this discipline is run in the classic technique while the second half is run in the freestyle technique. The two different techniques require different equipment, which requires a change in the middle of the race. This equipment change is timed. Mass Start is another competition in which all of the athletes begin together. In this event, women use the freestyle technique and run 30Km. Men use the classic or freestyle technique to run 50Km.
There are two team disciplines in Cross Country Skiing. First is the Team Sprint. This is a short-distance relay race. Two athletes per team compete, alternating through 3 to 6 sectors. The women cover .8 to 1.6Km, and men cover 1 to 1.8Km. The final event is the Relay. In the competition, each team has 4 athletes. The first two run the classic technique, while the last two go in the freestyle technique. The women's team runs a total of 20Km, while the men's team runs a total of 40Km.
What Are The Rules For Olympic Cross Country Skiing?
There are quite a few rules that govern the sport of Cross Country Skiing. The most important for spectators to know are the skating techniques employed and how race positions are determined. First, these events are run in two different techniques. The Classical style of skiing is a simple glide in preset parallel tracks. The Skate Skiing technique, or the freestyle technique, is a skating stride where athletes push off on the inside of their skis, across a broader, flat track. This technique has no preset grooves to stick to. The Freestyle technique is much faster than the Classical technique. Because of this, each style is run in alternating games.
Determining the skate order is done through a drawing, and is completely random. The only exception to this is a mass start event, in which everyone starts at the same time. Certain events have athletes competing against a clock, while relays and sprints are head-to-head competitions. When slower skaters are overtaken by faster skiers, the faster of the two must yell "track", in order to make the slower athlete yield their position.
Who Are The Favorites For The 2022 Beijing Winter Olympic Games?
While it is still a little too early to determine individual Olympic betting odds for the the 2022 Beijing games, there are several favored countries. Norway remains the most favored to medal in this event, based on their past winter Olympic records. Sweden and Finland round out the medal predictions, as historically they have also done very well in this event. To remain as up-to-date as possible on the Olympic cross-country skiing betting odds, make sure you check sportsbooks like Bovada - the best online books for your winter Olympics betting needs.
Can American Players Legally Wager On The Beijing 2022 Cross Country Skiing Events?
Americans are legally able to place wagers on any Olympic sport they'd like to wager on, so long as they use an online sportsbook to do it. While online betting is the preferred method, around three dozen states have also regulated sports betting in their districts. While some federal and state betting laws may prevent Olympics odds from appearing in your local sportsbook, utilize the online Olympic betting site in order to bet on cross country skiing events.
Beijing 2022 Winter Olympics - Cross Country Skiing Event Quick Fact
Cross Country Skiing made its Olympic Debut in 1924, but its roots can be traced back to ancient times when hunters used skis to make hunting easier in the winter.
Bill Koch helped to make the freestyle technique of skiing popular in competition after winning the cross country skiing overall world cup title in 1982. It was officially introduced to the Olympic Games in 1988 and has been alternated as the designated skiing style in each Olympic cycle since.
Americans To Medal in Olympic Cross Country Skiing
American Men With Cross Country Skiing Medals
| Discipline: | Name: | Medal: | Year: | Olympic Games: |
| --- | --- | --- | --- | --- |
| 30 km | Bill Koch | Silver | 1976 | Innsbruck |
American Women With Cross Country Skiing Medals
| Discipline: | Name: | Medal: | Year: | Olympic Games: |
| --- | --- | --- | --- | --- |
| Team Sprint Kikkan | Randall & Jessie Diggins | Gold | 2018 | Pyeongchang |
Latest Beijing Olympic Cross Country Skiing News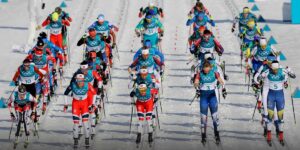 The United States are +25000 longshots to win the 4x10km relay. James Schoonmaker has +20000 odds in the individual sprint freestyle. USA is a +15000 betting option in the men's team sprint. BEIJING – The United States isn't expected to be competitive in the Olympics when it comes to cross country skiing. Norway is the … Read more
Cross Country Skiing Events Schedule – 2022 Beijing Winter Olympics
Sat - Feb 5
Women's 7.5km + 7.5km Skiathlon
Sun - Feb 6
Men's 15km + 15km Skiathlon
Tue - Feb 8
Women's Sprint Free Qualification
Men's Sprint Free Qualification
Women's Sprint Free Quarterfinals
Men's Sprint Free Quarterfinals
Women's Sprint Free Semifinals
Men's Sprint Free Semifinals
Women's Sprint Free Final
Men's Sprint Free Final
Wed - Feb 16
Women's Team Sprint Classic Semifinals
Men's Team Sprint Classic Semifinals
Women's Team Sprint Classic Final
Men's Team Sprint Classic Final
Sat - Feb 19
Men's 50km Mass Start Free
Sun - Feb 20
Women's 30km Mass Start Free