Olympic Snowboarding Betting Odds for Beijing 2022
Winter sports fans who are looking for Olympic snowboarding betting odds for Beijing 2022 are in luck as this page is geared towards you. Snowboarding is one of the most popular snow sports in the world and come time for the odds makers to decide the odds on who will win each event, snowboarding should be one of the hottest sports to bet on as well.
This page will not only provide future players with the betting odds, but it will also explain all the necessary information needed to be educated on snowboarding, give insight into what teams or individuals to look out for and explain the rules behind every event.
Snowboarding Betting Odds
Beijing 2022 - Men's Slopestyle
Mark McMorris (CAN)+300
Marcus Kleveland (NOR)+450
Redmond Gerard (USA)+500
Max Parrot (CAN)+650
Sebastien Toutant (CAN)+800
Rene Rinnekangas (FIN)+1600
Chris Corning (USA)+2000
Dusty Henricksen (USA)+2000
Beijing 2022 - Women's Slopestyle
Zoi Sadowski Synnott (NZL)-120
Jamie Anderson (USA)+250
Tess Coady (AUS)+700
Anna Gasser (AUT)+1200
Komoko Murase (JPN)+1400
Laurie Blouin (CAN)+1600
Enni Rukajarvi (FIN)+2500
Miyabi Onitsuka (JPN)+3300
Beijing 2022 - Mixed Team Snowboard Cross
Italy (ITA)+250
France (FRA)+350
Austria (AUT)+400
Australia (AUS)+600
Germany (GER)+700
Canada (CAN)+1000
USA (USA)+1200
Switzerland (SUI)+6600
Czech Republic (CZE)+8000
Japan (JPN)+12500
Legal Snowboarding Betting On The Olympics
Anyone inside of the United States that is within their state's age limits for gambling, can bet real money on Olympic snowboarding. There are plenty of safe and legal websites that are licensed outside of the country and some Olympic bettors have options at state-regulated sportsbooks. While not every state offers legal Olympic betting odds, events like snowboarding are definitely found at online books.
Snowboarding Events At Beijing 2022 Olympic Games
There are five different events associated with snowboarding at the 2022 Beijing Olympics. All of them have both men's and women's competitions with the exception of the mixed team snowboard cross, which brings both genders together. Making for a total of 11 snowboarding disciplines, sportsbooks will post odds on every Olympic snowboarding event, giving bettors access to hundreds of snowboarding betting lines.
Olympic Snowboarding Disciplines
Men's Big Air
Women's Big Air
Men's Halfpipe
Women's Halfpipe
Men's Parallel Giant Slalom
Women's Parallel Giant Slalom
Men's Slopestyle
Women's Slopestyle
Men's Snowboard Cross
Women's Snowboard Cross
Mixed Team Snowboard Cross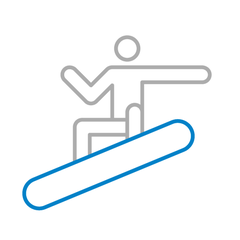 What Are The Rules For Olympic Snowboarding?
Parallel Giant Slalom
This event sends two athletes down a hill at the same time as they slalom parallel to each other. The elevation difference is anywhere between 120-200 meters, the length between 400-700 meters, and a minimum of 18 gates. The distance between each participant's courses must be between 20 and 27 meters. The degree of the slopes must be 16 degrees and the width must be at least 40 meters.
Half Pipe
This competition sees six judges decide the overall score by taking into account the height, rotations, techniques and degree of difficulty of a particular routine of tricks performed by riders traveling down a gradually sloped U-shaped course. The score scale goes from 0 to 100 points, and the rankings are decided by the highest score the participants receive after two runs. The half pipe has a slope of about 17.5 degrees, has a recommended length of 170 meters, a height of 6.7 meters, and the width of the semi-circle should be between 19-22 meters.
Snowboard Cross
This is a grouped snowboarding event in which four to six athletes race down the designed course where there will be obstacles like jumps, spine transfers, rollers and banks. Whoever finishes the course first wins the race. The length of the race is 1,050 meters at a 12-degree downward slope. The slope's width is 40 meters, and the track is 6-16 meters wide. Snowboard cross races can feature fields of up to 36 athletes vying to qualify for the finals after their times from the preliminaries are added up. After that the top two (and sometimes three) athletes from one team will continue on to the next round.
Slope Style
Another race in which the competitors have obstacles, slope style is separated this discipline from snowboard cross is that the competing athletes can actually pick the objects they want to perform with. Available choices are obstacles such as rails, tables, boxes, walls and jump pads. A group of six judges base their overall scores off of height, rotations, techniques and degree of difficulty. Slopestyle has a minimum elevation of 150 meters, a slope slant of 12 degrees or more, a minimum width of 30 meters, a minimum of six obstacles (jumps and the various objects listed above), and three or more jumping pads.
Americans To Medal In Olympic Snowboarding
Americans have dominated the medal count since the first Olympics with snowboarding (1998 Nagano). Since then, both men and women from the USA have held golds around their head but none are as famous as Shaun White, Jamie Anderson, and Kelly Clark. With three medal each, Shaun White is the only snowboarder (American or not) to hold three gold medals in snowboarding. However, White was not part of the podium sweep at the 2002 Salt Lake City Olympics, wh ere Ross Powers (gold), Danny Kass (Silver), and Jarret Thomas (bronze) all represented America and were awarded medals.
American Men With Snowboarding Medals
| Discipline: | Name: | Medal: | Olympic Games: |
| --- | --- | --- | --- |
| Slopestyle | Red Gerard | Gold | 2018 Pyeongchang |
| Halfpipe | Shaun White | Gold | 2018 Pyeongchang |
| Big Air | Kyle Mack | Silver | 2018 Pyeongchang |
| Snowboard Cross | Alex Deibold | Gold | 2014 Sochi |
| Slopestyle | Sage Kotsenburg | Gold | 2014 Sochi |
| Snowboard Cross | Seth Wescott | Gold | 2010 Vancouver |
| Halfpipe | Shaun White | Gold | 2010 Vancouver |
| Halfpipe | Scott Lago | Bronze | 2010 Vancouver |
| Snowboard Cross | Seth Wescott | Gold | 2006 Turin |
| Halfpipe | Shaun White | Gold | 2006 Turin |
| Halfpipe | Danny Kass | Silver | 2006 Turin |
| Halfpipe | Ross Powers | Gold | 2002 Salt Lake City |
| Halfpipe | Danny Kass | Silver | 2002 Salt Lake City |
| Halfpipe | Jarret Thomas | Bronze | 2002 Salt Lake City |
| Parallel Giant Slalom | Chris Klug | Bronze | 2002 Salt Lake City |
| Halfpipe | Ross Powers | Bronze | 1998 Nagano |
American Women With Snowboarding Medals
Discipline:
Name:
Medal:
Olympic Games:
Slopestyle
Jamie Anderson
Gold
2018 Pyeongchang
Halfpipe
Chloe Kim
Gold
2018 Pyeongchang
Halfpipe
Arielle
Gold
Bronze 2018 Pyeongchang
Big Air
Jamie Anderson
Silver
2018 Pyeongchang
Slopestyle
Jamie Anderson
Gold
2014 Sochi
Halfpipe
Kaitlyn Farrington
Gold
2014 Sochi
Halfpipe
Kelly Clark
Bronze
2014 Sochi
Halfpipe
Hannah Teter
Silver
2010 Vancouver
Halfpipe
Kelly Clark
Bronze
2010 Vancouver
Halfpipe
Hannah Teter
Gold
2006 Turin
Halfpipe
Gretchen Bleiler
Silver
2006 Turin
Snowboard Cross
Lindsey Jacobellis
Silver
2006 Turin
Parallel Giant Slalom
Rosey Fletcher
Bronze
2006 Turin
Halfpipe
Kelly Clark
Gold
2002 Salt Lake City
Halfpipe
Shannon Dunn
Bronze 1998 Nagano
Olympic Snowboarding Quick Facts
Snowboarding was originally named "Snurfing" (combination of snow and surfing)
Started as early as 1910. There is evidence of people strapping wooden boards to their feet and using horse reigns to maneuver down mountains.
Sherman Poppen, who is credited as having invented the snowboard (He called it a snurfer), created the first competitions in Michigan in the 1970's.
Latest Beijing Olympic Snowboarding News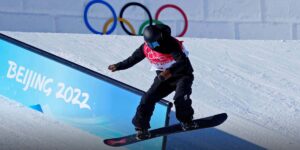 Zoi Sadowski-Synnott is favored to win the Women's Big Air snowboarding gold medal with +225 odds. Sadowski-Synnott has already won an Olympic gold medal in the slopestyle. BEIJING, China – Snowboarding is one of the staple sports at the Winter Olympics each year and at Beijing 2022 it is no different. Snowboarding events have already … Read more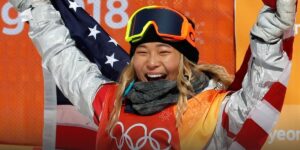 Chloe Kim has -300 odds to win the women's halfpipe gold medal and won the 2018 gold medal. BEIJING – The Winter Olympics are set to begin on February 4 and the women's halfpipe event is one of the most highly anticipated events in 2022. This comes as Chloe Kim is favored on betting sites … Read more
 Snowboarding Events Schedule – 2022 Beijing Winter Olympics
Sun, 6 Feb
Women's Snowboard Slopestyle Final Run 1
Women's Snowboard Slopestyle Final Run 2
Women's Snowboard Slopestyle Final Run 3
Men's Snowboard Slopestyle Qualification Run 1
Men's Snowboard Slopestyle Qualification Run 2
Mon, 7 Feb
Men's Snowboard Slopestyle Final Run 1
Men's Snowboard Slopestyle Final Run 2
Men's Snowboard Slopestyle Final Run 3
Tue, 8 Feb
Women's Parallel Giant Slalom Qualification Run
Men's Parallel Giant Slalom Qualification Run
Women's Parallel Giant Slalom Elimination Run
Men's Parallel Giant Slalom Elimination Run
Women's Parallel Giant Slalom 1/8 Finals
Men's Parallel Giant Slalom 1/8 Finals
Women's Parallel Giant Slalom Quarterfinals
Men's Parallel Giant Slalom Quarterfinals
Women's Parallel Giant Slalom Semifinals
Men's Parallel Giant Slalom Semifinals
Women's Parallel Giant Slalom Small Final
Women's Parallel Giant Slalom Big Final
Men's Parallel Giant Slalom Small Final
Men's Parallel Giant Slalom Big Final
Wed, 9 Feb
Women's Snowboard Halfpipe Qualification Run 1
Women's Snowboard Halfpipe Qualification Run 2
Women's Snowboard Cross Seeding Run 1
Women's Snowboard Cross Seeding Run 2
Men's Snowboard Halfpipe Qualification Run 1
Men's Snowboard Halfpipe Qualification Run 2
Women's Snowboard Cross 1/8 Finals
Women's Snowboard Cross Quarterfinals
Women's Snowboard Cross Semifinals
Women's Snowboard Cross Small Final
Women's Snowboard Cross Big Final
Thu, 10 Feb
Women's Snowboard Halfpipe Final Run 1
Women's Snowboard Halfpipe Final Run 2
Women's Snowboard Halfpipe Final Run 3
Men's Snowboard Cross Seeding Run 1
Men's Snowboard Cross Seeding Run 2
Men's Snowboard Cross 1/8 Finals
Men's Snowboard Cross Quarterfinals
Men's Snowboard Cross Semifinals
Men's Snowboard Cross Small Final
Men's Snowboard Cross Big Final
Fri, 11 Feb
Men's Snowboard Halfpipe Final Run 1
Men's Snowboard Halfpipe Final Run 2
Men's Snowboard Halfpipe Final Run 3
Sat, 12 Feb
Mixed Team Snowboard Cross Quarterfinals
Mixed Team Snowboard Cross Semifinals
Mixed Team Snowboard Cross Small Final
Mixed Team Snowboard Cross Big Final
Mon, 14 Feb
Women's Snowboard Big Air Qualification Run 1
Women's Snowboard Big Air Qualification Run 2
Women's Snowboard Big Air Qualification Run 3
Men's Snowboard Big Air Qualification Run 1
Men's Snowboard Big Air Qualification Run 2
Men's Snowboard Big Air Qualification Run 3
Tue, 15 Feb
Women's Snowboard Big Air Final Run 1
Women's Snowboard Big Air Final Run 2
Women's Snowboard Big Air Final Run 3
Men's Snowboard Big Air Final Run 1
Men's Snowboard Big Air Final Run 2
Men's Snowboard Big Air Final Run